Pawn Diamonds For The Best Price In Israel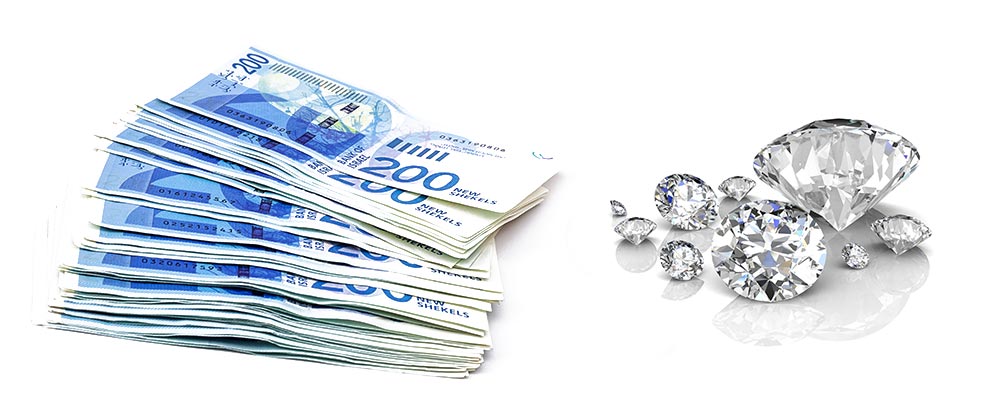 We pawn gold , diamonds & silverware
For a long time people have been pawning old diamonds for cash. Pawning is very common and also little effort is needed to receive the cash at hand. Now this service is gaining wide popularity in Israel. It is helpful to those up against the dilemma of just selling something worth sentimental value. Furthermore, this kind of transaction can be thought of as a temporary loan, the seller has the option to buy back their diamond in the future. This removes a lot of the common stresses of selling special jewelry, there is an option to have that jewelry returned, and for some this changes their minds about pawning. 
In what situations should we pawn?
Let's face it, the world is an expensive place to live today, times of economic trial are not foreign to most. Pawning makes these situations easier to handle, since the opportunity to earn cash at hand quickly and securly exists. There is no need for thousands of documents or dealing with banks and bank loans, there is no need to be denied a loan and have to scramble with what to do next. In a pawn transaction you bypass all of that time and stress, you earn cash quickly for your unused or unwanted diamonds, with an option to buy it back. It is as simple as it sounds and it is now a great service here in Israel today.
The advantages of pawning gold and diamonds
In a regular diamond sale, you will not see the item that you sold again, you will only be left with the cash. For some this is a very stressful decision to make, maybe that diamond piece was very sentimental. Money isn't everything, and we are very aware of that as a pawning company. In order to make sure you enjoy the best of both worlds, the better option would be to pawn the diamond instead. Therefor, the diamond is only a loan and in the case that you want it back in the future you can buy it back for a predetermined amount. 
You can pawn any jewel
It is also possible to pawn all types of precious metal and platinum plus in addition we also pawn silver and gold. We hold the highest standards of discretion in our company, so that your privacy is secure. We also keep the pawned jewelry in our safe in the stock exchange which keeps it devoutly protected. Most people are unaware how much their jewelry is worth, it can be a real leg up and a great surprise to discover how much you are actually holding onto at home.  
With whom should you pawn 
When we pawn something it is very important to remember that this is a transaction involving money and valuables. It is not something to take lightly even though it is a very easy and effortless act. We need to deal with companies we trust and people within these companies that are professional. Beyond the monetary value there is also a great deal of emotional value in these objects being pawned, make sure that the company that you are trading with is not push or luring in any way. Look at the businesses reputation and stature, most importantly trust your own intuition.