Gold For Cash For The Best Price In Israel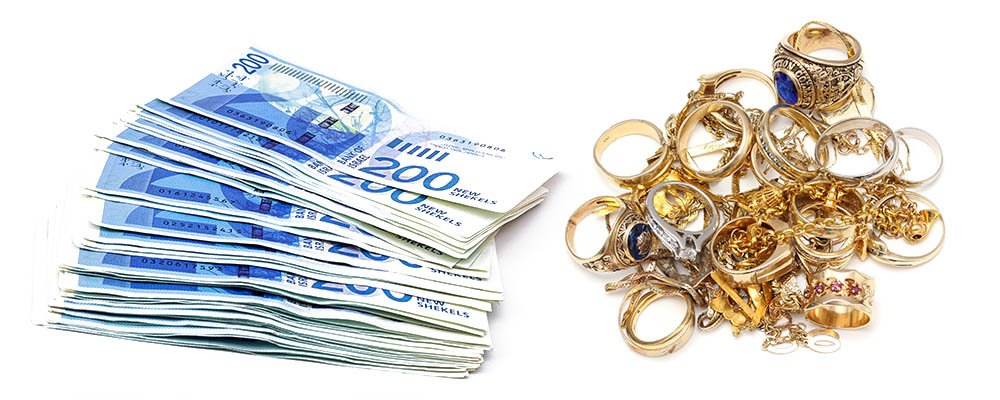 Almost every person in the Western World holds jewelry made ​​of gold. These items were purchased as gifts and adorned at one time, but as the designs of jewelry changed or the excess accumulation of jewelry occurred, these precious items got stored away over the years. However, even if your gold is is sitting in jewelry boxes or unused in their drawers, they still contain great value. This is why in recent years people around the world have realized – that if they can not enjoy their gold, they prefer to selling old gold for cash.
Treasure lying in a drawer
Over time a dilemma arises – what to do with old gold jewelry? We no longer wish to use them, gifting them to family members is not an exciting option anymore, but certainly we would not want to throw them away without any compensation. Those of us who love to save things might keep the jewelry and old coins in boxes and securely out of sight. It is not uncommon in this instance that people have lost their valuables and seen them disappear or unfortunately, have been victims of burglary and theft.
Safe is the best solution
Someone who is more aware and cautious of the risk of keeping old jewelry at home may invest a considerable amount on the purchase of a safe. Which is an option but not a lucrative one, keep in mind sometimes a proper safe exceeds the value of the jewelry itself. However even a safe is only partial protection for our personal treasury since seeing a safe will only be attractive to thieves. But keeping your jewelry safe in this manner is certainly a step in the right direction, but what if there is a better option? Although on many occasions the jewelry we hold has sentimental value and maybe there is no price to convince you to part from it but many people have happy stories to tell about selling old gold for cash – and sleeping with peace of mind. Since then people have gone on to invest the money form their unused gold or keep it in savings, surprised by how much was laying around their homes for so long.  Easily one can enjoy the value of having money liquid instead of spending on the purchase of a safe and other protective measures, and of course there is no price limit to having peace of mind. So, the next question you have is, how to sell your gold and who will buy it?
Selling old gold for cash
Only qualified entities trading in gold can sell it in large quantities, which can be used for banking or industry. Of course, this is why large corporations have no interest in buying small quantities of gold, they look to buy large quantities of small customers selling old gold at great prices. The gold production process is complex, so the price is high. Gold has many uses, most commonly when we think of gold we think of only jewelry of different kinds, but it is also used for industrial purposes and even medical.
How does the process work?
First, find a competent and experienced company. Next contact them either by phone, speak with someone who you can contact easily and not feel as though they are often unavailable. When dealing with your valuables, you should find a company that is suitable for you and your needs. Amateurs in the field without a tidy office and do not engage in clear communication are not a suitable option when it comes to selling gold.  After you have found such a company, take your gold at your disposal and physically go to the office. Let it be known that selling a single gold coin of certain kinds can sometimes make dozens, hundreds or thousands of dollars . Remember that you need to choose carefully where to sell your gold in order to make a successful and excellent deal.